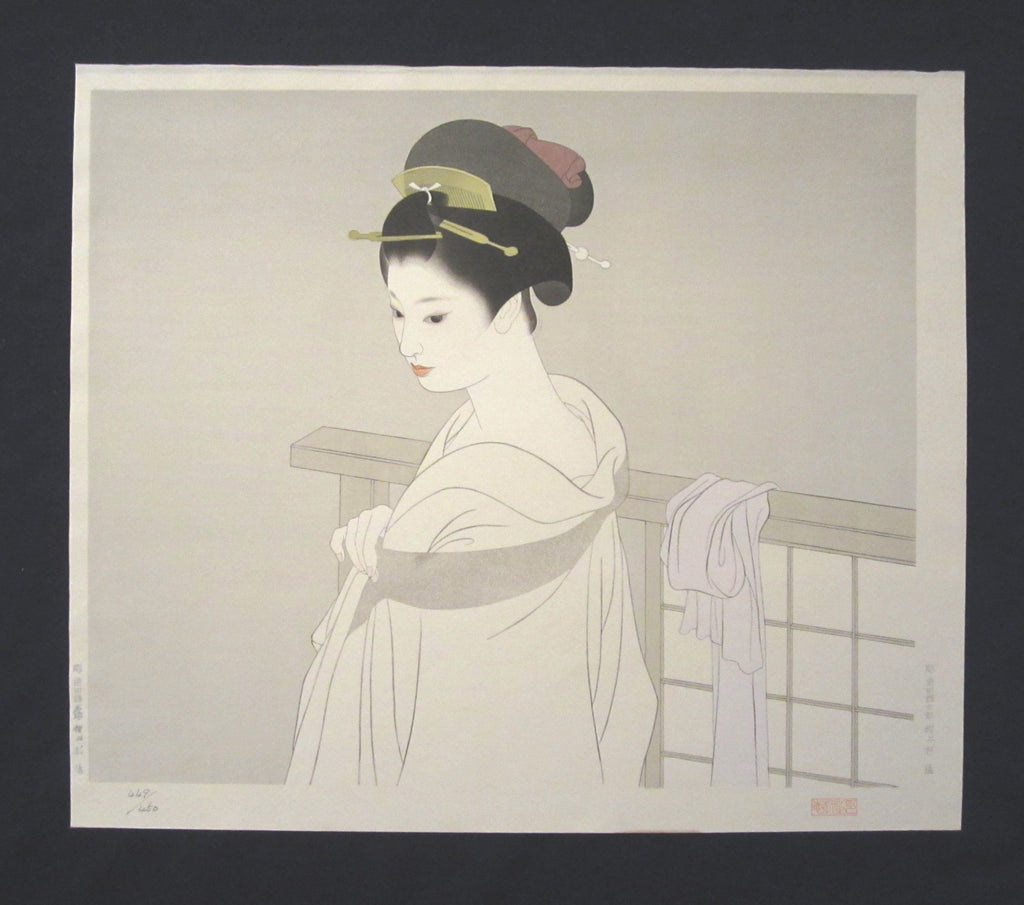 shinhangagallery
Original Japanese Woodblock Print PENCIL Sign LIMITED# Shimura Tatsumi Bijin
Description & History- This is an EXTRA LARGE very rare, beautiful and LIMITED-NUMBER (449/450) original Japanese woodblock print "Bijin" from the Series "Modern Beauties Bijin Ga, Gendai Bijin Fuzoku Gotai" PENCIL SIGNED by the famous Showa Shin-Hanga artist Shimura Tatsumi (1907-1980) published by the famous printmaker YuYuDo in 1970s.   This ORIGINAL woodblock print is more than 40 years old.   This woodblock print is from Dr. BenHo family seven-decade old collection of Japanese woodblock prints and Asian Art.
Artist- Shimura Tatsumi was born in Takasaki in the Gunma prefecture under the given name of Sentaro in 1907.  Shimura Tatsumi was specialized in bijin-ga the genre of the depiction of beautiful women.   The women in his woodblock prints look very fashionable, trendy, beautiful and cute- with big eyelashes and sensual lipstick mouths.  Shimura Tatsumi was mainly a traditional Japanese painter so he did not create a lot of bijin ga prints before he died in 1980.   The designs of his woodblock prints have an individual style and are something special - and beautiful.  Because of these reasons, his Bijin ga woodblock prints are hard to find and are highly priced in all over the world. 
Medium- Original Japanese Woodblock Print
Date of Creation- Original Japanese Woodblock Print, early 1970s
Print Size- 19 1/4 x 16 1/4 inches
Print Condition- The colors, which are vivid and vibrant, are in layers.  This woodblock print is not attached any backing paper or cardboard and Ink bleeding can be seen through the back of the original Japanese mulberry Washi paper.  All four borders are intact.  The artist's chop mark and the carver and printer's chop marks are at the lower right corner of the print while the PENCIL WRITING LIMITED-NUMBER 449/450, another carver's chop mark and publisher chop mark are at the lower left border, which was put overlapped.   This ORIGINAL woodblock print comes with an about 4x2 inch publisher YuYuDo Label, which was at the back of the original worn-out frame.  This woodblock print is in excellent condition.
Payment- Any credit card, visa, master card, PayPal, bank and post office money order, cashier check and personal check are accepted.  Personal checks will take about ten days to clear. Texas residents need to pay 8.25% tax. 
Shipping- Shipping is $16 anywhere in US by USPS priority mail with insurance and tracking.  Due to the recent postage raise for the large dimension international mail, international shipping charges are US$35 through 1st class airmail WITHOUT insurance, buyers will have to assume all the risks during the mailing. If you choose to mail by international priority mail with tracking and limited insurance, it costs around $50.  We do combined shipping.  If more than one item is purchased at the same time, the highest shipping cost will be charged. All items will be shipped together.
---
Share this Product
---
More from this collection