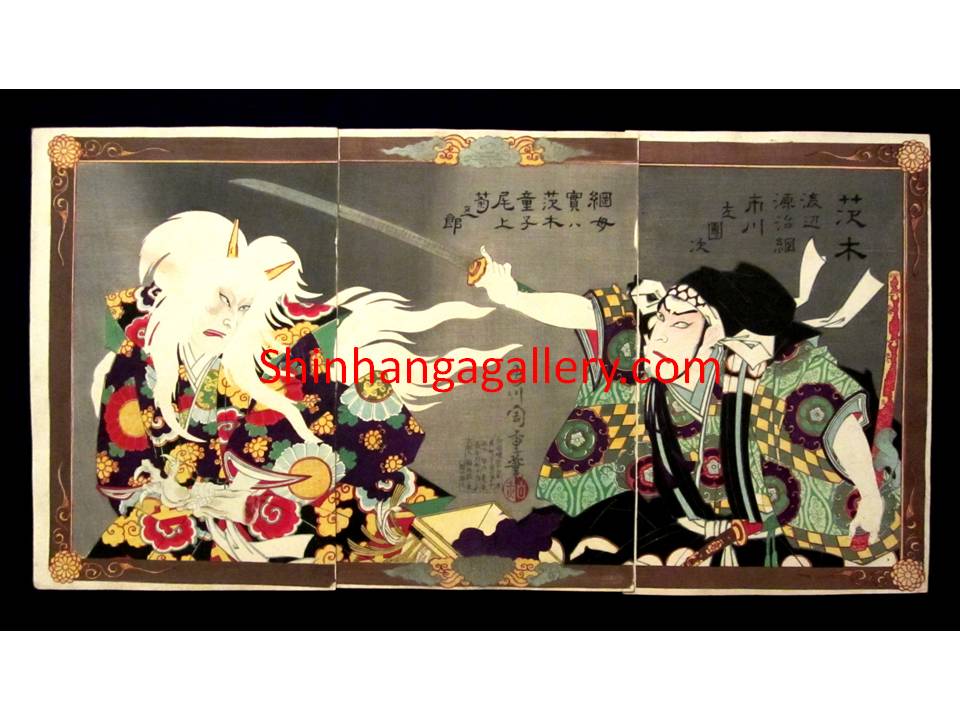 shinhangagallery
Original Japanese Woodblock Print Triptych Ukiyoe Chikashige Morikawa Wizard and Samurai
Description & History- This is a very beautiful, colorful, and rare original Japanese woodblock print triptych "Wizard and Samurai" signed by the famous Meiji woodblock print master Chikashige (1869-1883), made in Meiji 16th, which is 1883. This is an original woodblock print about 133 years old.  This woodblock print is from Dr. BenHo family seven-decade Japanese woodblock prints and Asian Arts collections.
Artist- Chikashige Morikawa (active 1869-1883),
Medium- Original Woodblock Print
Date of Creation- Original, Meiji 16 (1883)
Print Size- Three separate Panels, each panel is 14 5/8 x 9 3/4inches
Print Condition- The artist's signature and his chop mark, the chop mark of the publisher's name and address, the chop mark of the publication date, and the carver's chop mark are close to the bottom border of the middle panel. The colors, which are vivid and vibrant, are in layers on the print.  The triptych is not attached to any backing paper or cardboard and strong ink bleeding through can be seen from the back of original Japanese Washi paper. Except for some light foxing on the Wizard's left hair, this original woodblock print triptych is in excellent condition. 
Payment- Any credit card, visa, master card, PayPal, bank and post office money order, cashier check and personal check are accepted.  Personal checks will take about ten days to clear. Texas residents need to pay 8.25% tax. 
Shipping- Shipping is $12 anywhere in US by USPS priority mail with insurance and tracking.  International shipping charges are US$22 through 1st class airmail WITHOUT insurance, buyers will have to assume all the risks during the mailing. If you choose to mail by international priority mail with tracking and limited insurance, it costs around $50.  We do combined shipping.  If more than one item is purchased at the same time, the highest shipping cost will be charged. All items will be shipped together.
---
Share this Product
---
More from this collection